Welcome to Venroo - Poster of Pro Football Stadiums on Map of U.S.

Perfect Gift for the Football Fan!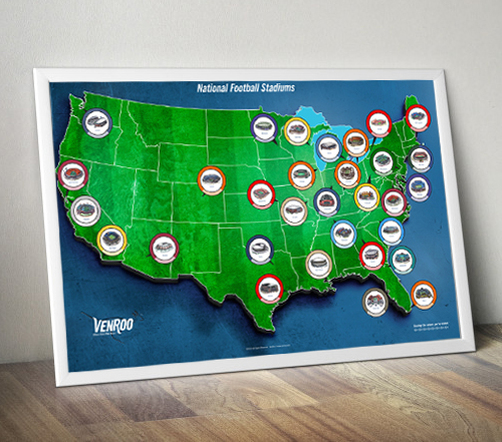 Click to see larger image
A high-quality, unique poster with images of the professional football stadiums on a map of the United States, which you can proudly display in your home. Use the poster to label where you've been or see where you want to go, showing off your travels to your friends.
This makes a
Great Gift
for any football fan.
The poster ships via USPS 1st Class Mail in a rolled tube and fits a standard 24x36 inch frame.
$19.99 + Free Shipping in the U.S.
Add Shipping to Canada $6.95 for 1, $9.95 for 2
Click
Here
for Additional Poster Information
---
We use PayPal Checkout so you know your transaction is secure - you will be redirected to PayPal website for checkout
New Stadiums
San Francisco opened their new stadium at the beginning of the 2014, Minnesota and Los Angeles in 2016 and Atlanta and Los Angeles in 2017. These five stadiums are included as stickers you can place on the poster. All other stadiums are pre-printed on the poster.

You can attach the stickers to your poster and choose to cover the original stadium, or place it anywhere on the poster.